About • Zombie Rights • Worst offenders • Get active • Contact us • Petition

NOT FOR OUR ENTERTAINMENT
The use or abuse of the previously living for the so-called purposes of "entertainment" constitutes the wholesale violation of undead rights. Add your name to learn more and get involved.

Want to show your support for CURE? Grab banners for your website and get protest sign ideas here.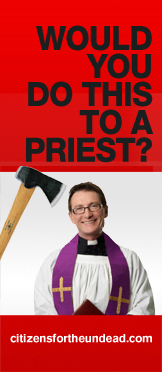 WORST OFFENDERS
Zombies are people, infected people, and they can be saved. Others see them as a means to an end, and justify their torture, keeping them subservient, for money. If Zombrex were more affordable and more widely available, the world wouldn't need CURE. Till then, we monitor and expose those who would do the most harm.
| | |
| --- | --- |
| | Terror is Reality" is a needlessly and excessively violent game show shot live from Fortune City, Nevada, pitting contestants against the undead, where the number and more inhumane ways they kill them determines the winner. |
| | It feels like video game makers have been killing zombies since day one, but ever since the Willamette massacre, they've been ruthless at playing on people's instinct for heartless thrill-killing. They're the worst kind of offender: they teach people to devalue undead life. |
| | Using and abusing Zombies has become a cottage industry in many infected cities across the U.S. Liberal protest has managed to stop offenders in the past, and now we focus our attention on Fortune City, Nevada. Fortune City Bowlerama is the first of it's kind, and requires no explanation. |
| | The Zombie aphasia or virus as it turns out, isn't limited to the human population. When the Fortune City Zoo decided to stop euthanizing infected animals and start putting them on display for money, they crossed a weird line. |
| | As the trend goes, forcing the undead into entertainment roles is all the rage, and most of these shows are pouring out of Fortune City, Nevada. Since Zombies and their surviving families aren't entitled to payment or royalties, productions are cheap, and they churn this crap out pretty fast. We almost didn't realize "The Zombie Factor" is about to start it's ninth season. |
| | Mocking the undead by focusing on their appearance is the most low-brow form of reality television. Forcing the undead to participate in this kind of pageant style "entertainment" is both humiliating and sexist at the same time. |
| | Would "Tape It Or Die" have encouraged people to create boxing knives or double-sided chainsaw paddles during the civil rights movement? So why are they allowed to do it now? It's been years since the Willamette massacre but Tapeitordie.com continues to play off people's aversion to zombies. What started as a simple zombie "fan site", the site now acts as a rallying point for people to celebrate hateful violence towards the infected. It's open to anyone with duct tape and hate. Educating people about crafting traps and weapons is going to cost people family members – the living and the dead kind. |
CLICK TO LEARN MORE ABOUT ZOMBREX
Ad blocker interference detected!
Wikia is a free-to-use site that makes money from advertising. We have a modified experience for viewers using ad blockers

Wikia is not accessible if you've made further modifications. Remove the custom ad blocker rule(s) and the page will load as expected.