The DRW Barstool is a weapon found in Dead Rising 2. Its attack is identical to a chair.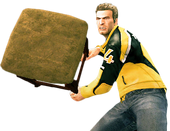 Main Tap to lunge outward with the stool, knocking over zombies.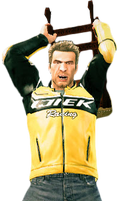 Alternate Hold to slam the barstool down onto the zombie's head. This attack breaks the stool and usually results in a kill.
This item is destroyed when thrown.[1]
In the PC file items.txt this chair is identified as "Chair_8".
Cite error: <ref> tags exist, but no <references/> tag was found
Ad blocker interference detected!
Wikia is a free-to-use site that makes money from advertising. We have a modified experience for viewers using ad blockers

Wikia is not accessible if you've made further modifications. Remove the custom ad blocker rule(s) and the page will load as expected.