The baseball bat is a weapon in Dead Rising 2, Dead Rising 2: Case Zero, and Off the Record. A baseball bat is a smooth wooden club used in the sport of baseball to hit the ball after it is thrown by the pitcher.
It can be combined with:
</center>
Alternate: Hold / to wind up for a Home-Run swing. This attack kills zombies in one hit, awarding 25 prestige points for each zombie killed.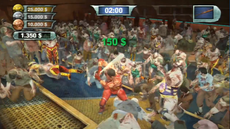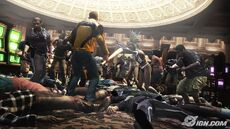 One of the first six beta pictures, released in February of 2009, shows Chuck wielding a baseball bat.
References
Edit
↑ The six weapons are : Baseball Bat, Donkey Lamp, Wacky Hammer, Foam Hand, Massager, Electric Guitar. See Magazines#References for how this was determined.
Ad blocker interference detected!
Wikia is a free-to-use site that makes money from advertising. We have a modified experience for viewers using ad blockers

Wikia is not accessible if you've made further modifications. Remove the custom ad blocker rule(s) and the page will load as expected.