Template:Infobox

Template:Quote Brett Styles is a survivor appearing in Dead Rising and Dead Rising: Chop Till You Drop . He is found in Huntin' Shack in North Plaza during the unannounced scoop Gun Shop Standoff. He has occupied the gun store with two other survivors, and is initially distrustful of Frank.
Gun Shop Standoff
Edit
When Frank enters the Huntin' Shack, the three survivors mistake him for a zombie and open fire until he exits the store. Once they realize their mistake, Jonathan goes over to ask Frank what he wants with them. Frank offers to take them to the Security Room and promises that a helicopter is coming to rescue them. Alyssa is doubtful as she has seen that the door to the Security Room has been welded shut. Brett then requests Frank to provide some proof by bringing them a picture of the duct.
If Frank has taken a photograph of the rooftop air duct into the Security Room the trio will join Frank.

Depending on the ending, Brett was either rescued by Ed DeLuca, taken into custody by the Special Forces and eventually released, or killed by Carlito Keyes' bombs.
Infinity Mode
Edit
In Infinity Mode, Brett appears in Huntin' Shack at North Plaza from 4:19:00 to 5:00:00 carrying golden brown pizza.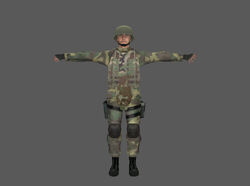 The National Guard servicemen seen guarding the bridge leading into town during the helicopter ride share the same face model as Brett Styles.
In Dead Rising: Chop Till You Drop, completing Gun Shop Standoff and rescuing Brett rewards Frank with the Ammo Belt.
References
Edit
Ad blocker interference detected!
Wikia is a free-to-use site that makes money from advertising. We have a modified experience for viewers using ad blockers

Wikia is not accessible if you've made further modifications. Remove the custom ad blocker rule(s) and the page will load as expected.