Chris' Fine Foods is a Palisades Mall grocery store in Dead Rising 2.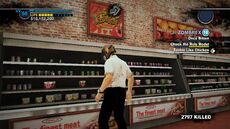 Description on the map page: Think you have what it takes to go toe to toe with our juicy 1 1/2 inch thick steak? When it comes to beef, nobody beats Chris!
The red box of ice pops from the original Dead Rising appears in the back corner near the steak along with 2 other flavors not present in Dead Rising.
This may be a reference to Resident Evil, another Capcom series, where a recurring protagonist was named Chris Redfield, and his partner was Jill Valentine,
Ad blocker interference detected!
Wikia is a free-to-use site that makes money from advertising. We have a modified experience for viewers using ad blockers

Wikia is not accessible if you've made further modifications. Remove the custom ad blocker rule(s) and the page will load as expected.