Dining at Davey's is a Platinum Strip restaurant in Dead Rising 2.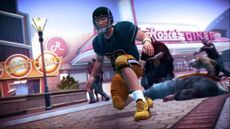 Description on the map page: Just like mom used to make! Come on in for some delicious homemade meatloaf, or treat yourself to our famous apple pie!
Dining at Davey's was originally called Rosie's Diner.
References
Edit
Ad blocker interference detected!
Wikia is a free-to-use site that makes money from advertising. We have a modified experience for viewers using ad blockers

Wikia is not accessible if you've made further modifications. Remove the custom ad blocker rule(s) and the page will load as expected.